A middle-aged woman and also a mother of 5 children is currently in extreme pain after a random armed man forcefully slept with her severally without any reason, she suspects the man might have been sent by a neighbor with who she had a misunderstanding.
According to an OB report filed at the police station, the man has forcefully engaged in the act with the woman who sought anonymity due to the sensitiveness of the matter three days after she disagreed with a neighbor who promised to give her a lesson.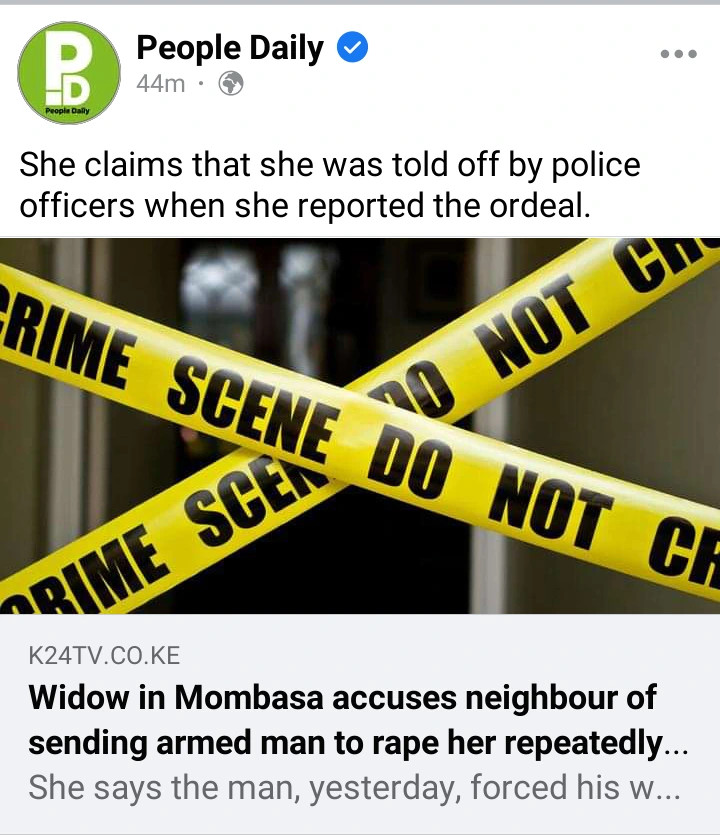 The misunderstanding came because of three coconuts that had fallen in her compound.
On the first day, the woman left her house at around 5 am in morning at her Vikwatini home in Kisauni sub-county to fetch water at a nearby well, in the process, a man fully armed with a knife and a panga attacked her from behind,
he then forced her to identify herself before removing all her clothes and forcing chewing her, she, however, begged to be spared since she was on her monthly periods but non of her pleas were heard.
She then escorted her to her house, used her dress to wipe the wet parts of his body after the act, and then told her to put on the messy dress. Before leaving, he asked about the children who were still sleeping in a single-roomed house and promised to knock at her door whenever he felt like chewing her.
Despite reporting the matter at Concordia police station, she was turned away and she is now looking for investigative agencies to intervene and save her from the man. At the police station, the police officers said that she enjoyed the act and that is why she never screamed.
The man also visited the house on 1st September 2021, and since the children were awake, she had to go out with the man and finish the act in a bush, the matter is currently being investigated.